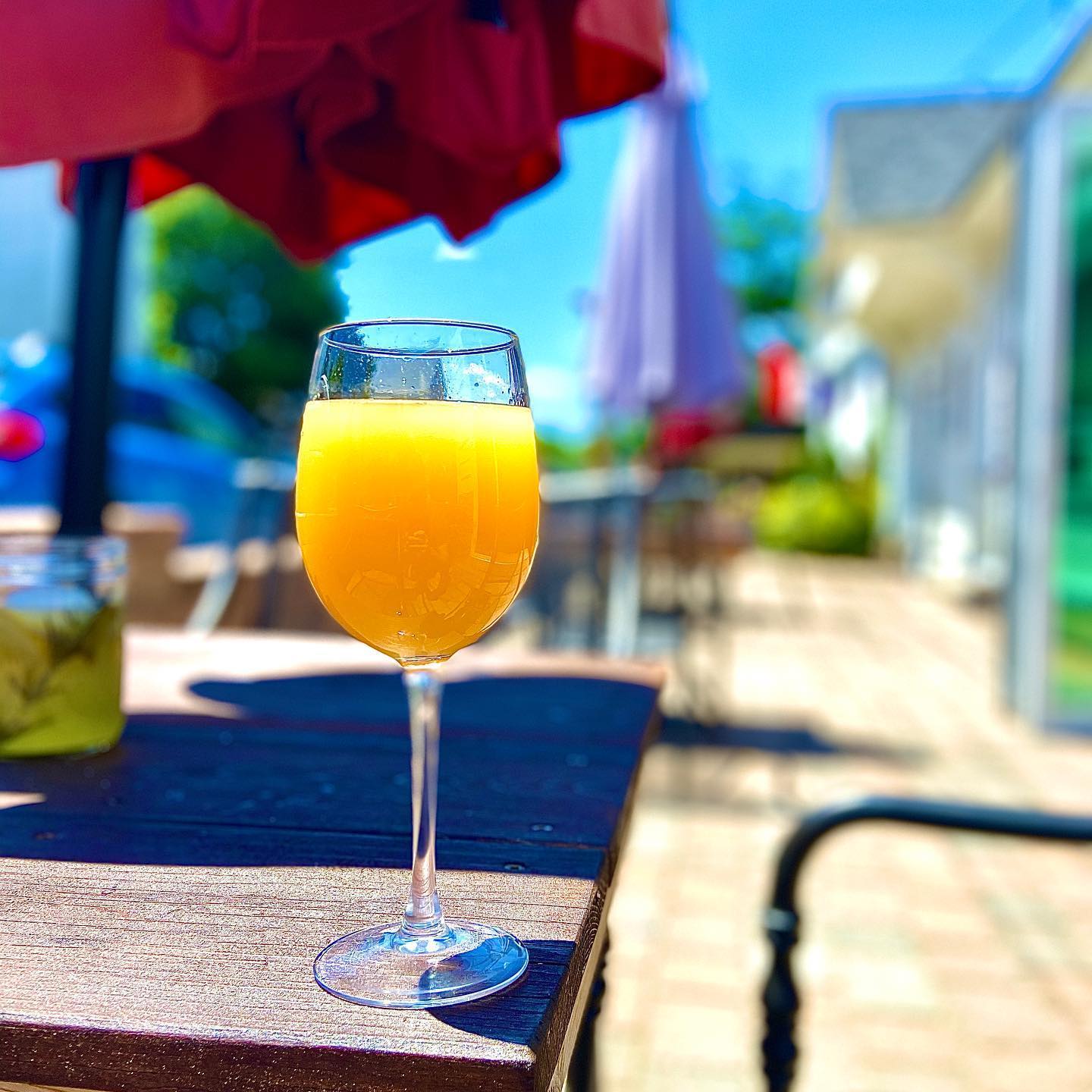 Featured Wines
We offer only PA-made wines selected to complement our menu.
Featured Cocktails
We craft seasonal cocktails using PA distilled spirits and local flavors.
Dine
At Black Forest Brewery we are offering a simple menu of pub fare, including snacks, charcuterie boards, paninis, flatbreads, soups, and salads. Visit us on Facebook to see our current specials.  
Shareables
Buffalo Chicken Dip (GF) $10
Served with Tortilla Chips, Carrots and Celery
The Brewery Fries $8
Crispy Fries topped with beer cheese, caramelized onions and bacon
Vegetable Tempura (V) (DF) $10
Seasonal Vegetables battered in tempura.  Served with a soy ginger garlic dipping sauce
Garlic Parm Tater Tots (V) $8
Tossed in garlic parmesan sauce, served with garlic dill aioli
Macho Nacho Plate (V) $12
Tortilla chips topped with beer cheese, onion, salsa, cheddar jack, jalapenos and sour cream.  Add chicken $3, pork belly $5, or shrimp $6
Jumbo Soft Pretzel (V) $10
Our Pretzel Served with Beer Cheese
Upgrade to a Crab Pretzel for $6
Sweet Corn Arancini (V) $10
Sweet Corn Risotto Rolled, Breaded, and Deep Fried Until Golden Brown Served With A Spicy Chipotle Ranch
Crispy Pork Belly (GF) $10
Thick Cut Pork Belly and Crunchy Pork Rinds Served with Black Cherry Habanero BBQ Sauce
Sides
Basket of Fries $4
Side Seasonal Salad $4
Zerbe's Potato Chips $3 
Handhelds 
Everything Bagel Dog $8
Hippey's hot dog, topped with Cream Cheese, Everything Bagel Seasoning and Chives
Cheese Quesadilla (V) $8
Cheddar Jack, Mozzarella, Grilled Peppers, Grilled Onions and Jalapenos, Served with Sour Cream, Chips and Salsa.  Add Chicken ($3), Pork Belly ($5) or Shrimp ($6)
Shrimp Tacos (DF) (GF) $14
Three flour or corn tortillas filled with grilled shrimp, avocado slaw and topped with Sriracha.  Served with chips and salsa
Carolina BBQ Pork Sandwich $12
Pulled pork shoulder, Cole Slaw and Carolina BBQ Sauce Served on a Brioche Bun
Classic Reuben $12
Sliced Corned Beef, Sauerkraut, and Russian Dressing Served on Toasted Marble Rye
Cheesesteak $10
Thin Sliced Steak Grilled with Onions and Served on a Large Hoagie Roll.  Topped with Your Choice of Beer Cheese, Muenster, Swiss, Provolone or American Cheese
Soups & Salads
Soup Du Jour Market Price
Ask Your Server About The Seasonal Soup
Harter's Chili Bowl (DF) (GF) $8
Three bean beef chili served with cornbread.  Load it up and add jalapenos, sour cream, cheddar jack and onions for $1
Seasonal Salad (V)  Market Price
Caesar Salad $8
Romaine lettuce tossed in our house made Caesar dressing.  Finished with parmesan and croutons.
Add Chicken ($3) Pork Belly (5) or Shrimp (6)
8 oz. All Beef Patty ($10)
Breaded Chicken Thigh ($10)
Crab Cake ($12)
Brioche Bun
Sourdough
Marbled Rye
Tortialla Wrap
TOPPINGS (Choose One)
(Each Extra $.25)
Sautéed Onion
Sauerkraut
Red Onion
Bacon
Pickles
Tomato
Pork Belly ($1)
Chili
Fried Egg
Mushrooms
Coleslaw
Jalapenos
Lettuce
American
Muenster
Swiss
Provolone
Beer Cheese
Cheddar Jack
Mayo
Nashville Hot
Garlic Dill Aioli
A1 Steak Sauce
Cherry Habanero
BBQ
Burger Sauce
Fish and Chips  (DF) $12
Beer battered Alaskan Cod and French fries served with tartar sauce or cocktail sauce
Baked Mac and Cheese (V) $12
Made with beer cheese, cheddar jack and house made rigatoni.  Topped with Bread Crumbs
Add Chicken ($3), Pork Belly ($%) or Shrimp ($6)
Pasta Fresca (V) (DF) $12
Fettuccine Pasta Tossed in a Balsamic Reduction with Fresh Tomatoes, Spinach, Mushrooms
Add Chicken ($3), Pork Belly ($%) or Shrimp ($6)
Bone In Pork Chop (DF) (GF) $18
8 oz. Bone-In Chop Served with Grilled Seasonal Vegetables and Rosemary Red Potatoes.  Finished with a Bacon Jam
Crab Cakes and Risotto $20
Handmade Crab Cakes Served with Sweet Corn RIsotto and Grilled Seasonal Vegetables
Shrimp and Grits (GF) $15
Grilled shrimp on cheesy grits with spicy sausage and grilled peppers and onions
(V) Vegetarian     (DF) Dairy free     (GF) Gluten free     (GF*) Gluten Free Shared Fryer
Kitchen Closes 30 Minutes Prior To The Close of Business  
301 West Main St. Ephrata PA 17522
Located behind the 1777 Americana Inn Bed & Breakfast
The Black Forest Brewery is located on the property of the 1777 Americana Inn Bed and Breakfast in Ephrata, PA. In keeping with the historical integrity of the Inn, the Black Forest Brewery and tasting room is situated adjacent to the Inn and designed in the same period style.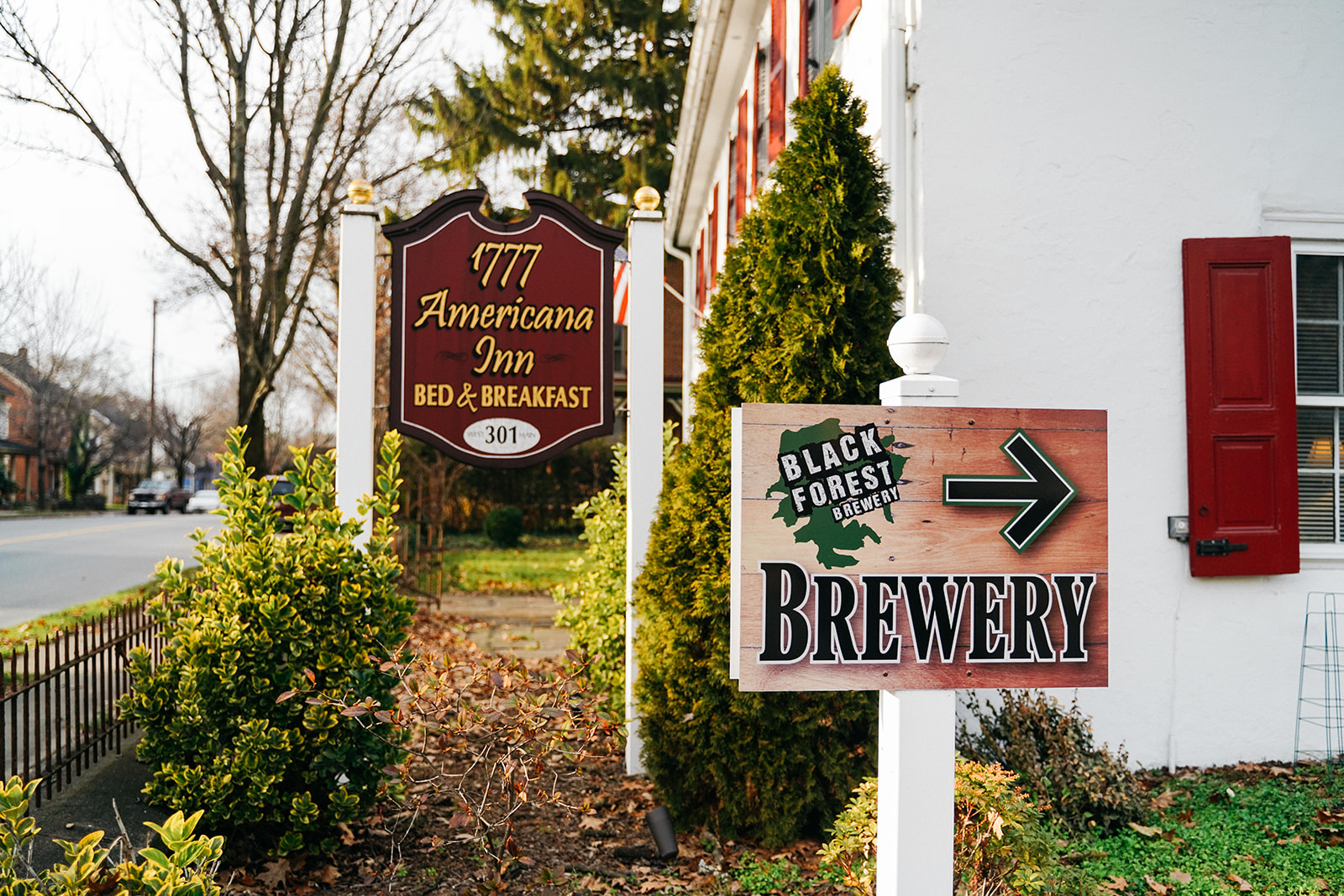 Parking
Off-street and on-street parking is available at our facility.  Additional overflow parking is also available in the following lots during the noted hours. See maps for reference. 

The Historical Society
NOON - 5 PM W, Th, F
WellSpan Lot 
5 PM - 10 PM W, Th, F
12 PM - 10 PM Sat & Sun
Click on each to enlarge.