On Saturday, March 14

th,

2020, Black Forest Brewery celebrated the grand opening of our newly renovated brewery and restaurant. 
We doubled our indoor seating and added a beautiful patio for outdoor dining.  We were able to triple the size of our kitchen allowing our chef to create a delightful lunch and dinner menu with deliciously unique selections. 
Our grand opening was a huge success and we ended the weekend with a banner Sunday afternoon; filled with happy customers and even happier owners.  
On Monday, March 16th, 2020 we had just completed our foodservice order when the news hit that all non-essential businesses were to close their doors effective midnight!  Talk about taking the wind out of our sales!   Within the hour, our bar manager and chef were standing in the brewery ready to strategize and figure out exactly what this means to our business (luckiest business owners in the world to have such a dedicated team).  
Many customers, friends, family members began contacting us; the general theme of the conversation was "you poor guys, you just re-opened" and "how are you going to survive", etc. and to be honest, the first two hours were a whole lot of stunned silence!  And then we got to work!  Chef Dave and Eric revamped the menu and created a viable takeout menu that would transport well and be easily enjoyed at our customers' homes, but they did not stop there!   Bob and Eric mapped out the beer release outline and included a whole group of new brews to our Black Forest Brewery tap list; sure to please your craft beer-loving palates!
After assessing our first week under Covid-19 shutdown, it became apparent that we still had to do more!  Enter Heat and Eat Meal Prep options.
Chef Dave used to do meal prep early on for a health club and is quite adept at creating meals that can be picked up on Monday and enjoyed for the rest of the week! 
Each week we develop a different menu of five single-serve portions in microwave-safe containers that are ready to be picked up each Monday and our customers were delighted!    Easter weekend they created a traditional holiday meal for 2 or more that could be enjoyed without the fuss,  again our customers were delighted!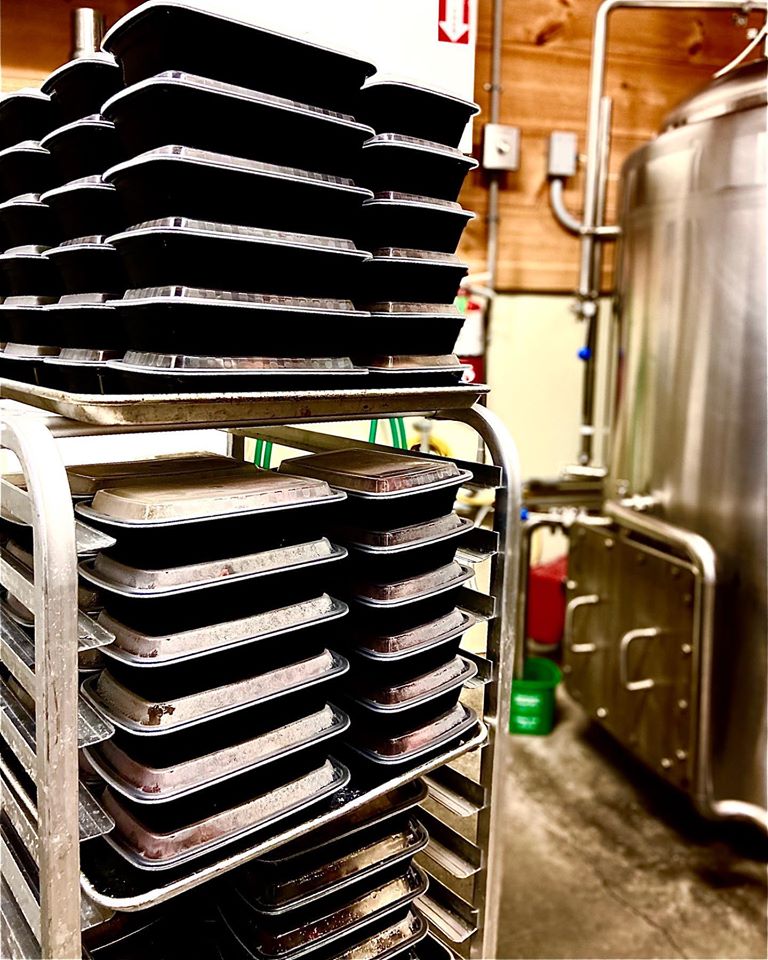 We ordered take out last night. The food was great! Eric and Denise, in spite of what's going on during these crazy times, greeted us with smiling faces! If you haven't been supporting the small businesses. Please do. They need us now more than ever!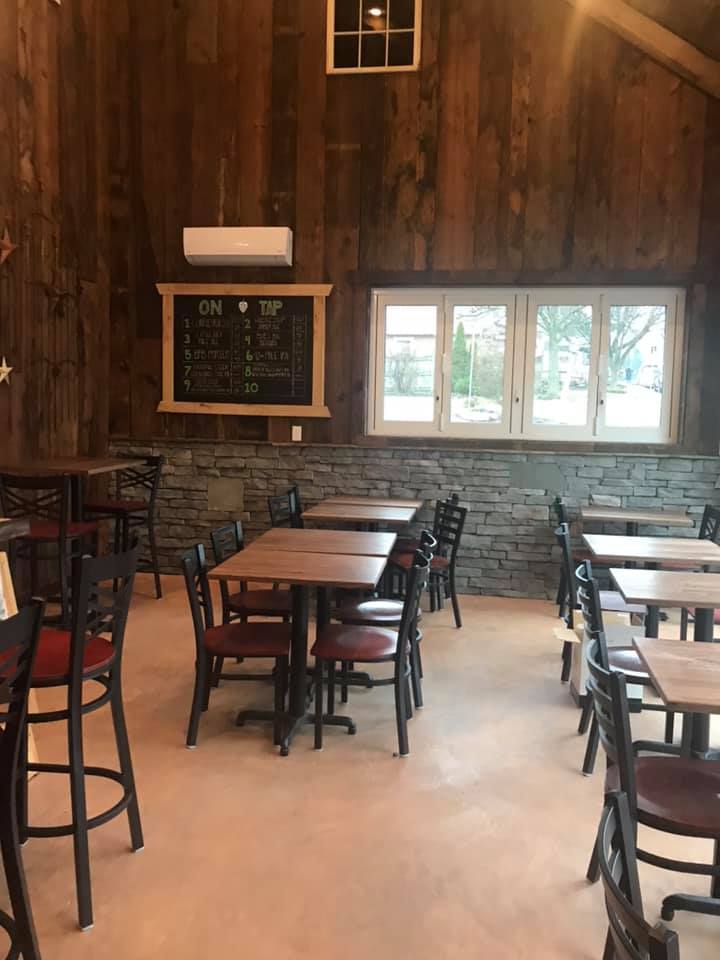 But this still wasn't enough for our team! 
Our bar manager, Eric, teamed with our apparel manufacturer and joined the #hereforgoodpa movement and began selling tees supporting Black Forest Brewery through this pandemic.  The fine folks at Rockhound Apparel created a tee-shirt that they sell on their website for $20 and they, in turn, give Black Forest $10 of that $20!  Eric is such a competitor and turned this into a friendly battle between the other organizations in the coalition and rallied our customers to help Black Forest sell the most tee-shirts (he even bartered to release his famous Bloody Mary secret recipe)   Black Forest Brewery did manage to surpass all other organizations in their sales AND that still wasn't enough.  
Enter the 50 State Challenge!  The new goal is to get someone from each of the 50 states to purchase a tee-shirt and represent Black Forest Brewery across this fine nation of ours.  After a mere 12 hours, we have 16 states represented!  
Not to be outdone by Eric showing off his marketing skills, Chef Dave decided to add homemade soups to the takeout and meal prep options!  AND with this disagreeable weather Mother Nature has "blessed" us with, the soup sales have gone through the roof!    Rumor has it something "sweet" is about to happen in the next week or so,  who know what Chef Dave has up his sleeve.
All in all folks, we are doing okay.  We are working hard to keep you sane with your food and beer selections during this very unusual time in our nation's history. 
And as many people lament the fact that we had our grand opening March 14 and our shut down March 16th, we are choosing to focus on the positive.  Without the expanded kitchen, we would never be able to put out the incredible selection of menu items and meal prep options that we currently can offer!   We are all healthy; and although we miss our personal interactions with our incredible customers, we will continue to follow the government guidelines until we can safely open our doors to you again.
Until then, stay safe!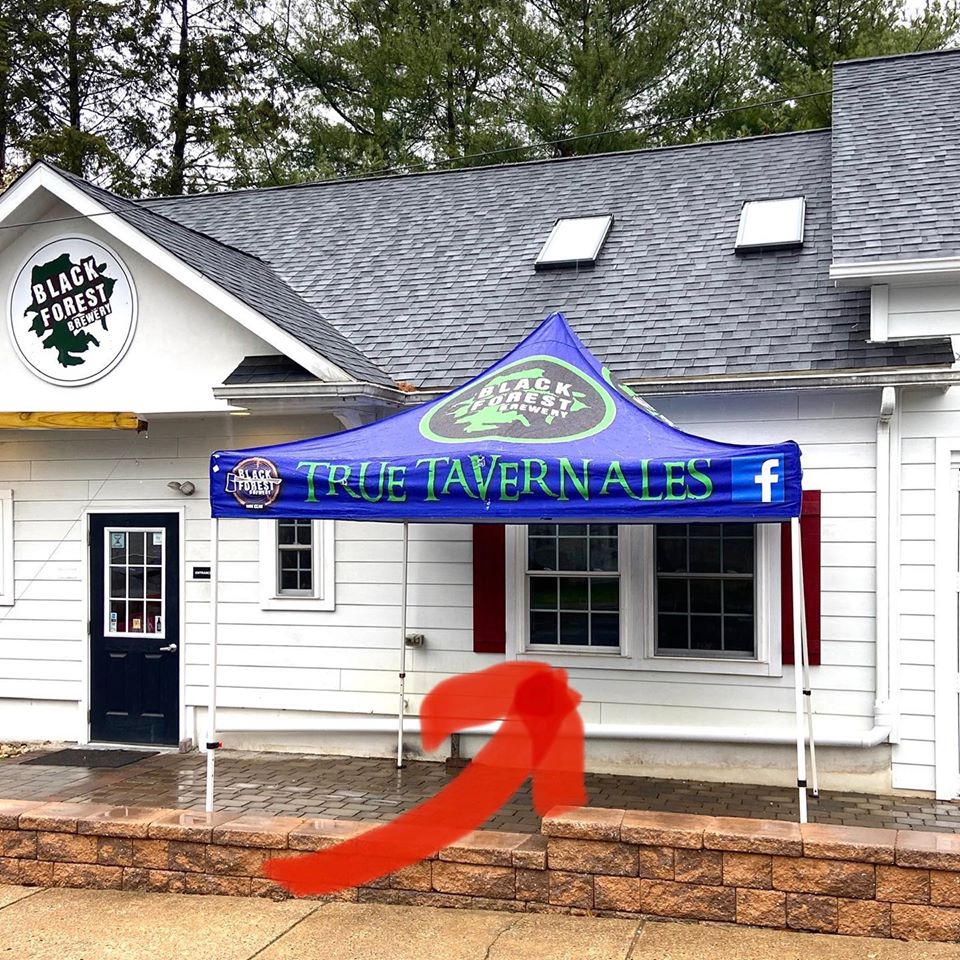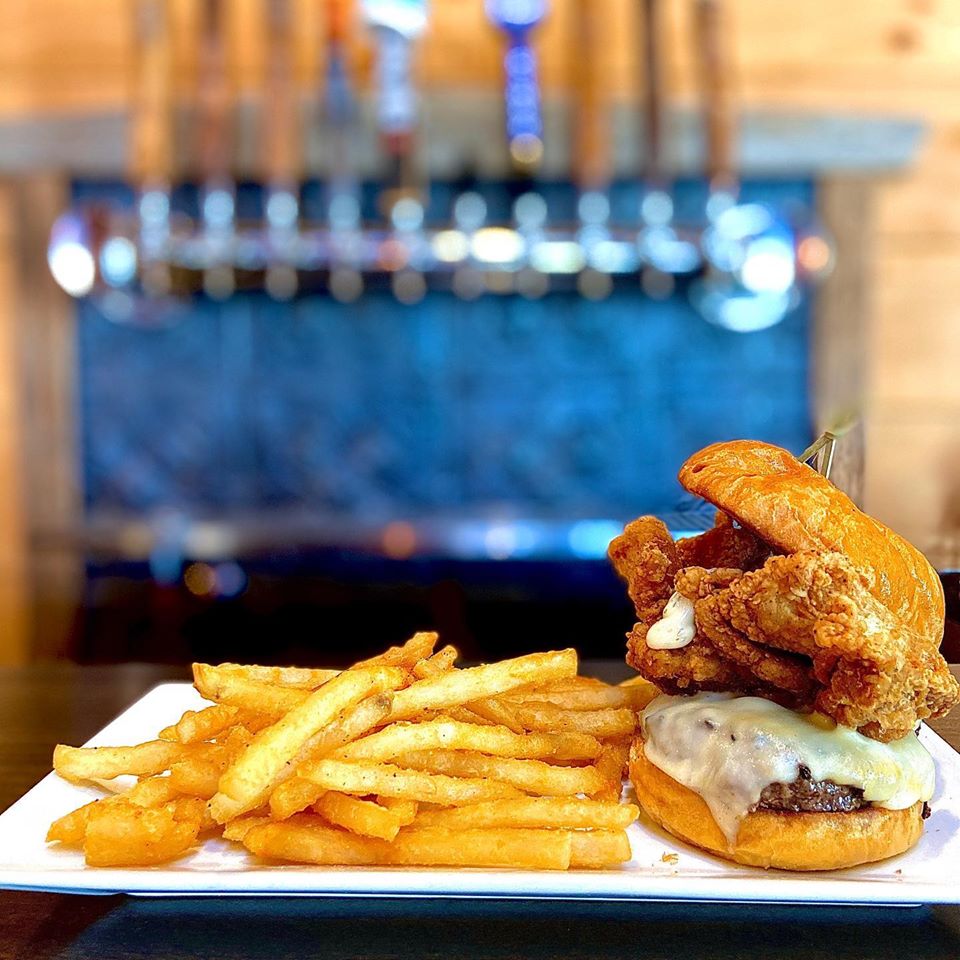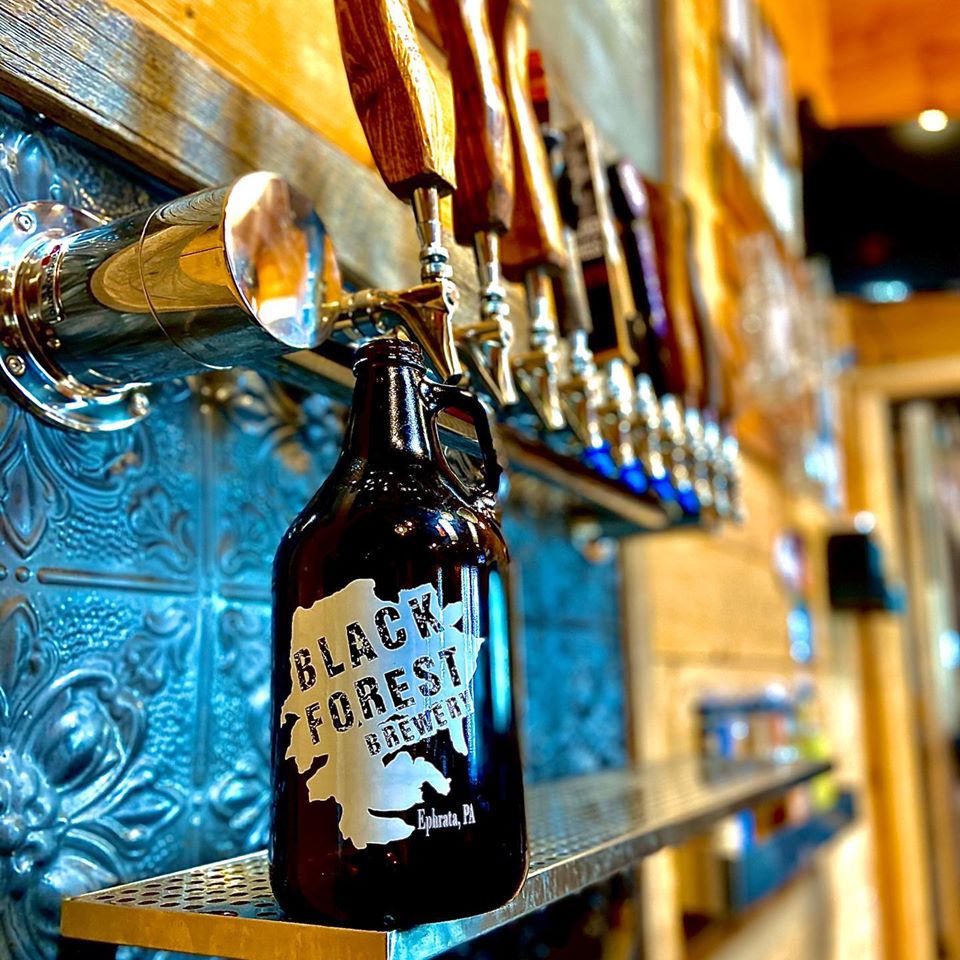 Appetizer and Sandwich combined into one meal! BFB French Fries are a tasty side! Awesome 
 creation! Thank You 

Chef Dave kicks ass and the fact that him and Eric Sears keep showing up is a tribute to Black Forest Brewery as an employer and them as employees!
 

~

enjoy a drink with friends

 ~
301 West Main St. Ephrata PA 17522
Located behind the 1777 Americana Inn Bed & Breakfast
The Black Forest Brewery is located on the property of the 1777 Americana Inn Bed and Breakfast in Ephrata, PA. In keeping with the historical integrity of the Inn, the Black Forest Brewery and tasting room is situated adjacent to the Inn and designed in the same period style.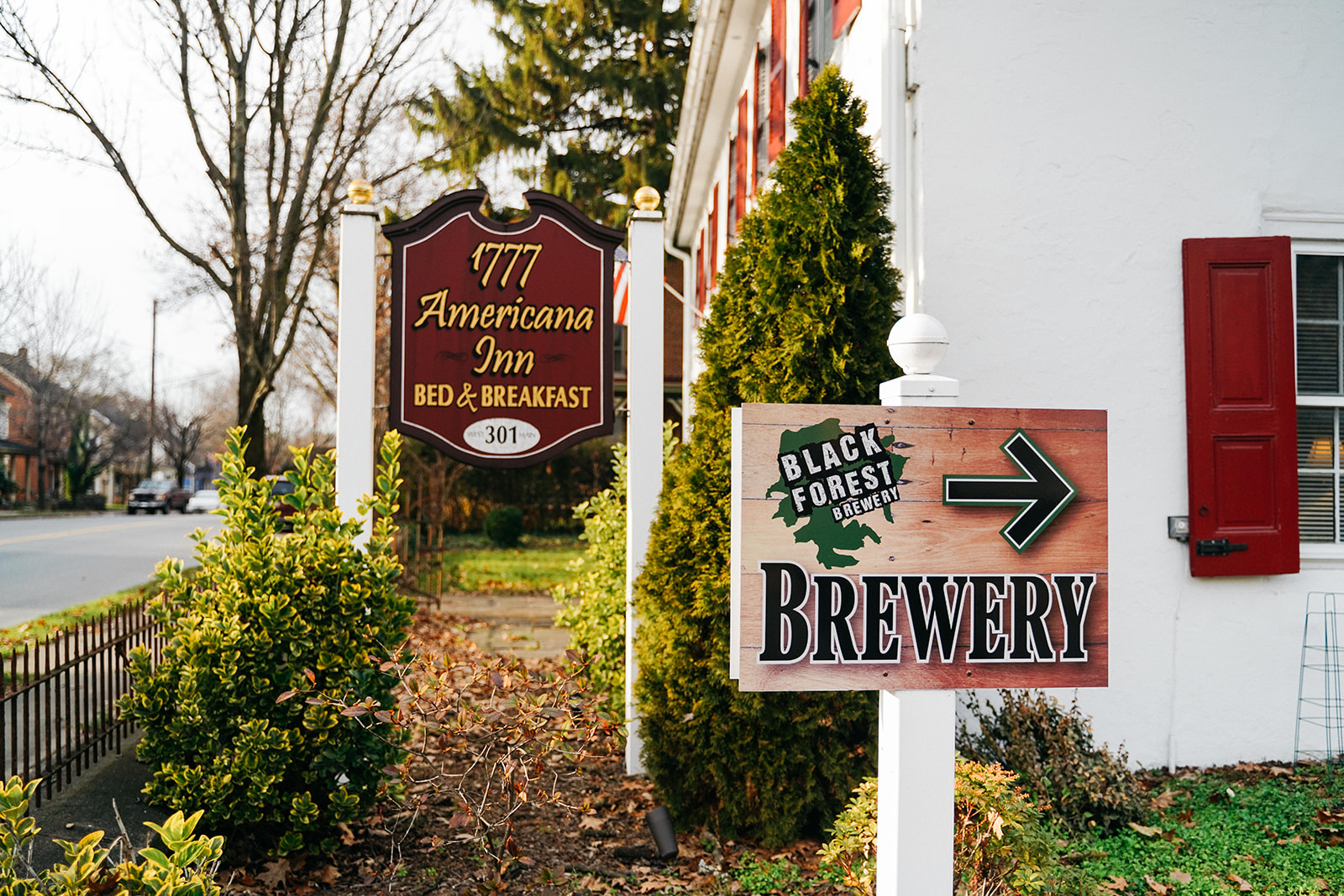 Parking
Off-street and on-street parking is available at our facility.  Additional overflow parking is also available in the following lots during the noted hours. See maps for reference. 

The Historical Society
NOON - 5 PM W, Th, F
WellSpan Lot 
5 PM - 10 PM W, Th, F
12 PM - 10 PM Sat & Sun
Click on each to enlarge.